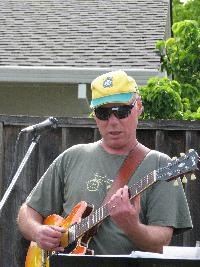 I've been involved in music and electronics since the 60's, when I electrified my ukulele. My parents had a Magnavox record player, whose ceramic cartridge plugged into the amplifier via a RCA jack. I bought a contact microphone from the local electronics store, attached it to my ax, plugged in to the Magnavox, and counted off "Memphis."

That seemed to get my parents' attention, so they bought me a Heathkit shortwave radio kit for Christmas, along with a Weller "pistol-grip" soldering iron. I assembled the radio, attached the antenna, turned it on, and it started howling. I couldn't get it to work right until I resoldered every joint.

By this time we'd moved to Jersey, and I started buying my own equipment. First up was a Lafayette amplifier, which, if I recall correctly, used two 6BQ5's in its push-pull output stage. I connected the amplifier to the 12" speaker in the console TV in my bedroom, and plugged my uke into the phono input. I had no idea why it sounded so bassy…

I upgraded to electric guitar in '67, when my folks bought me a used Fender Jazzmaster. I joined a band with my friends, but I needed an amp, so I emptied my savings account and bought an Ampeg Gemini II at the local music store. Luckily, it included the dolly, since I had to push it all the way home.

I took that rig to Cornell University, where I studied Electrical Engineering, including a couple of courses on electronic music taught by Robert Moog. I also took every music class I could, and worked part time as an electronics technician at the Cornell Synchrotron. My guitar never sounded quite right to me, so I started by changing the speaker in the amp, and then, in '70, I sold the Jazzmaster and bought a Gibson ES-335, which I still play today. The Ampeg went next, first for a Marshall Major, then a long string of other amps.

After graduation I headed out to Santa Barbara, where I worked for a couple of years testing integrated circuits for Burroughs. I was still playing in bands, and I started building my own equipment, both amps and speaker systems. I then moved to San Francisco, where I eventually ended up working at Dolby Laboratories as an audio engineer. I learned much of what you will read in Chapter 1 at Dolby.

In the last decade or so I have been taking a more orderly and comprehensive approach to amplifier and speaker design. I began, like most designers, by repairing and modifying various Fender, Ampeg, Marshall, and other designs. Later, I began constructing new amplifiers, first using existing units, such as Fender Bassmen, as platforms, and then designing and constructing all electrical and mechanical parts of the amplifier. Each amplifier was used in performances with various guitars, speakers, and effects systems.